ANTH 482 - Anthropology and the Environment: Culture, Power and Politics
University of Hawaiˈi at Mānoa
This course is an anthropological investigation of humans' relation to the natural world. In particular, we will be using the tools of anthropology to investigate the cultural, political and social dimensions of environmental problems. Some of the questions that we will attempt to answer include: what are the institutional and political constraints on the management of natural resources? who has access to land? who benefits from environmental conservation? who loses? how can we best analyze the social dynamics of environmental change? what are the class, race, gender, or ethnic dimensions of such transformations? how do people organize themselves to address environmental problems? how are environmental problems constituted as problems in need of solutions? how do the ways that a problem is constructed influence the ways that individuals and groups attempt to address them?
While ANTH 415, Ecological Anthropology, seeks to investigate the ecological dynamics of human existence in the natural world, this course seeks to illuminate that relationship from an approach grounded in political economy, political ecology, and the cultural politics of the environment. Drawing on cases from around the world, we will discuss questions of access to, and the use, distribution and degradation of natural resources. We investigate forms and practices of environmental exclusion and explore social movements that seek to lessen environmental harms or improve the management of resources or the conservation of nature. Specific topics to be considered include international development, climate change, indigenous knowledge, and natural and unnatural disasters. The course will cover approaches to these issues grounded in political economy and post-structural social theory, and will engage with contemporary discussions of the epistemology of nature, political ecology, and the cultural politics of ecological science.
* Image credit: Pieter Bruegel the Elder. Beekeepers. 1568. Berlin, Kupferstichkabinett.
ANTH 446 - Cultures of Southeast Asia
University of Hawaiˈi at Mānoa
This course examines Southeast Asia from the perspective of its peoples. What are the enduring arrangements of power and belief that distinguish this region, and how have these arrangements been transformed by processes of globalization, modernization and development? To answer these questions, we explore some classic themes in the study of the region: relations between lowland states and their highland neighbors; colonialism, nationalism and wars of national liberation; "mandalas" of power and the relations between centers and peripheries; the role of women in Southeast Asian societies. We will also dedicate ourselves to more intensive case studies of specific topics. For instance, we investigate in some detail the question of land in Southeast Asia – its use, its meanings, and the ways that it possessed as property. Similarly we discuss the question of national borders in the region, and the movements of people, things and ideas across them.
*Image credit: Tyra De Kleen, Wayang (Javanese Theatre), New Series, Publication No. 3 (Stockholm, Sweden: The Ethnographical Museum of Sweden, 1937).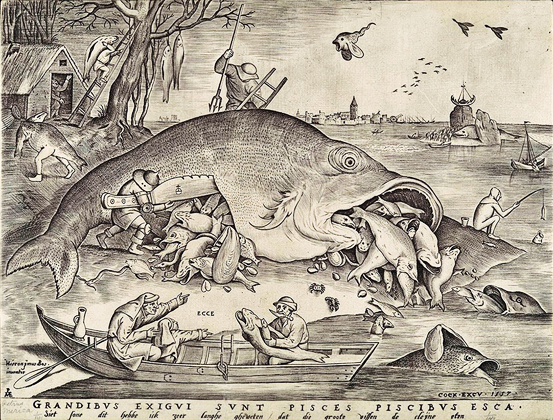 ANTH 415 Ecological Anthropology: Ecological Science and Human Society
University of Hawaiˈi at Mānoa
This course is an investigation of ecological anthropology, the study of human relations with the environment. Ecological anthropologists ask how human populations shape the environments they live in, and, in turn, how relations with the environment shape culture and social organization. The course is organized around the following topics: (1) ecology, its history, and the historical use of ecological concepts within anthropology; (2) various schools of ecological anthropology, including cultural ecology, human ecology, ethnoecology, and systems approaches; and (3) approaches to ecological limits (inscribed in such notions as human carrying capacity, sustainablity, and the like), and their critiques.
ANTH 415, Ecological Anthropology, is one of two capstone courses in environmental anthropology for undergraduates offered at the University of Hawai'i, Mānoa. ANTH 415 focuses on the relationship between ecology and social organization, on natural science models of resource-use, and on such approaches to anthropology as ethno-ecology, human and cultural ecology, and the ecosystem approach and its application within anthropology. In contrast, ANTH 482 focuses on such issues as the political economy of natural resource use, political ecology, the cultural politics of environment, and the environmental implications of globalization and development.
*image credit: Pieter Bruegel the Elder. 1557. Big Fish Eat Little Fish. Engraving by Pieter van der Heyden. 9 x 11 5/8 in. (22.9 x 29.6 cm). Collection of the Metropolitan Museum of Art.
ANTH 152 - Culture and Humanity
University of Hawaiˈi at Mānoa
This course is an introduction to cultural and social anthropology. In the course we examine human society comparatively, paying close attention to the forms of knowledge and belief that structure individual and collective action and modes of social organization. We are interested to explore human existence in all its diversity, looking at a wide variety of human life. Exploring this diversity requires us to ask questions, to interrogate our own understandings of the world. How do humans form attachments to ideas about ethnicity and race, identity and nationality? Who holds prestige or political power in society, and why? How do understandings of death influence the lives of the living? These and similar questions are ones that anthropologists have long grappled with, and we will delve into them in our readings and discussions. To understand how anthropologists have sought to raise -- and to answer -- these questions, we investigate the characteristic research and writing method of the discipline, ethnography. We will ask what kinds of knowledge can be gained through long-term, immersive research with human communities, and we will seek to understand the relationship between ethnographic method, social theory, and anthropological knowledge. In doing so, we'll explore the development of anthropology as a discipline, asking how anthropologists' views of society and culture have changed over time.
Books we have read in this course include:
Keith Basso. 1996. Wisdom Sits in Places: Landscape and Language Among the Western Apache. Albuquerque, New Mexico: University of New Mexico Press.
Heonik Kwon. 2008. Ghosts of War in Vietnam. Cambridge: Cambridge University Press, 2008).
Bronislaw Malinowski. 1984 [1922]. Argonauts of the Western Pacific: An Account of Native Enterprise and Adventure in the Archipelagoes of Melanesian New Guinea. Long Grove Illinois: Waveland Press.
Sally Engle Merry. 2006. Human Rights And Gender Violence: Translating International Law Into Local Justice. Chicago and London: University of Chicago Press.
Sidney W. Mintz. 1985. Sweetness and Power: The Place of Sugar in Modern History. New York: Elisabeth Sifton Books.
John Monaghan and Peter Just. 2000. Social and Cultural Anthropology: A Very Short Introduction. Oxford and New York: Oxford University Press.
*Image Credit: Pieter Bruegel the Elder. The Wedding Dance. c. 1566. Detroit Institute of the Arts.
ANTH 750 Research Seminar: Ethnographies of Southeast Asia
University of Hawaiˈi at Mānoa
This is a graduate seminar dedicated to the exploration of classic and contemporary ethnographic texts about Southeast Asian societies. Designed for graduate students whose area focus is Southeast Asia, or whose theoretical concerns merit a close reading of key texts on the syllabus, the course will engage with cannonical work, such as the writings of Clifford Geertz, Edmund Leach, James C. Scott, Ann Laura Stoler, Anna Tsing, and others, as well as with emerging voices in Southeast Asian studies such as Tyrell Haberkorn, Erik Harms, Johann Lindquist and Karen Strassler. The course is particularly well suited to students in the social sciences and Asian Studies interested in writing ethnographically about the region, and in gaining a sense for the particularities of Southeast Asia at the intimate scale of ethnographic narrative. Students will engage not only with the theoretical insights advanced by core texts, but also with the relationship between ethnographic research and the production of "theory", and with questions of tone, voice and style in ethnographic writing. Finally, the course provides students with the opportunity to write their own theoretical and/or ethnographic texts, and culminates in a writing workshop for course participants.
*Image credit: Tyra De Kleen, Wayang (Javanese Theatre), New Series, Publication No. 3 (Stockholm, Sweden: The Ethnographical Museum of Sweden, 1937).
Ethnography and Qualitative Research Methods
F&ES 70003 - Taught at Yale University in 2008
With Co-Instructor Shafqat Hussain
This course is an investigation of qualitative research methods in social science. It provides both theoretical and practical knowledge of the research process and explores the various phases of qualtitative research design and practice. The emphasis is on identifying a research problem, posing research questions that advance knowledge about the problem, developing a research methodology to answer those questions, conducting field research, and analyzing the results of that research. These are, in essence, the basic components of a research proposal, and the final product for this course will be a research proposal, ideally one that students will use as the basis for their own qualitative research program.
Course readings explore the epistemological bases for approaches in qualitative research (phenomenolgy and hermeneutics, discussed in relation to positivism), discuss the science of qualitative social science, and investigate various approaches in qualitative research method across a spectrum that ranges from ethnography and participant observation to rapid appraisal and survey techniques. We also address questions of technique (how to conduct an interview, how to take fieldnotes), ethics (the politics of representation, the compromised nature of participatory approaches, the disciplinary norms governing research on human subjects), and the relationship between doing research and writing about it. Data analysis, including grounded-theory approaches and qualitative data analysis software, are examined in detail.
The course is principally concerned with qualitative methods. The focus on qualitative, as opposed to quantitative, data raises important issues. For instance, what sorts of assumptions underlie quantitative approaches to social science research that might be overcome through a qualtitative approach? How are qualitative approaches limited? Is it possible, for example, to extrapolate from a case study to a more general population? How do interpretive research paradigms account for issues of representation and power?
The course is designed for students working on environmental problems, interpreted broadly, and explores the question of interdisciplinarity in detail.
*Image credit: The fieldnotebook of ethnographer Jacques Dournes, which I photographed at the Fonds Dournes.
Societies and Ecologies
Colby College, Department of Anthropology
January, 2010
This course is part of Colby's January Program.
Humans' use of the natural environment has been a topic of central importance to the social sciences, and especially to anthropologists, for decades. This course attempts to raise questions about the connections between society and the environment, and to provide students with new analytic tools for seeking to understand those relationships. This is a January-Plan course: the effort here is to immerse ourselves in a few select human-ecosystems, to see how people relate to their environment, and what the politics of those relationships are. To do that, we will borrow from the literature on environmental anthropology and political ecology where it suits our needs, but we won't feel compelled to exhaust the subject.
Our effort will be to cross disciplinary boundaries, not establish them. To do that, we will investigate several critical themes, including the use of the environment by rural societies, the involvement of rural people and indigenous groups in environmental social movements, and the cultural politics of environmental conservation projects in developing countries. In order to focus the discussion, we will explore these themes in three specific settings: among the highland ethnic minorities of Southeast Asia, among the forest-dwelling people (both indigenous and non-indigenous) of the Amazon basin, and, briefly, alongside Arctic people and their advocates. By focusing on a select set of cases, we will be able to explore specific histories and cultural settings in some detail, and we will be able to get a sense of the multiple historical and economic forces that shape environments and human lives in these places. Our effort, then will be to gain an understanding of people's reliance on the environment, their use of natural resources, and their understandings of nature.
Anthropology and the Environment
ANTH 257 / ES 257 Taught at Bowdoin College in 2011
This course is an anthropological investigation of humans' relation to the natural world. In the course, we will take two approaches to this issue. In the first half of the course we explore environmental and ecological approaches to anthropology – we look at the role of humans within ecological systems and at efforts to explain human social organization through ecological science. In the second half, we investigate environmental problems using the tools of anthropology. For example, we'll ask questions about how societies organize to allocate natural resources and environmental services. We also look at some of the central concerns of anthropology – topics such as race, ethnicity and production of inequality – and investigate how these issues play out within environmental politics, both in developing countries and in modern industrial societies.
* Image credit: Mark Lombardi. 1999. George Bush, Harken Energy and Jackson Stephens c. 1979-1990 (5th version). Graphite on paper. 24 1/8 × 48 1/4".
I love Lombardi's work. See here for some more images and further links.